Super Automatic Espresso Machine | Xpress Touch
Café Quality. Automated.
Concordia's flagship super automatic commercial espresso machine is the ultimate one-touch, bean-to-cup beverage brewer that delivers the "wow-factor" any coffee programs deserves.
Great drinks are brought to life through patented internals that deliver café quality espresso beverages like Cappuccinos, Mochas, Lattes, or simply single-shot espresso in under 25-seconds from a unit that is fun, fast, and friendly to use for customers of all types. And no matter your business goals, all types of retail concepts can enjoy this customizable unit that can be tailored to meet your beverage program goals and customer demands.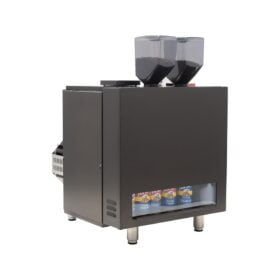 Specs
---
Xpress Touch 0:
Dimensions
23.8in (W) x 26.9in (D) x 36.5in (H)
60.4cm (W) x 68.3cm (D) x 92.7cm (H)
Xpress Touch 6 with EspressJet Flavor System:
Dimensions
30in (W) x 30in (D) x 36.5in (H)
76.2cm (W) x 76.2cm (D) x 92.7cm (H)
Weight
245lbs net / 111kg net
Electric
200-240 VAC, 30Amp dedicated circuit
Water
Min 30psi, Max 100psi, 25 gal per/hr flow Drain 3/4in indirect drain hose
Models
---
XT0
Xpress Touch 0: Our standard model, which makes hot and iced lattes and cappuccinos, espresso, Americano, steamed milk, and hot water. Includes two bean grinders and a built–in refrigerator that holds two standard one-gallon milk containers–great for offering your customers regular and low-fat milk options.
The XT0 becomes the XT6 when you add the side-mount flavor station.
XT6
Xpress Touch 6: With the patented EspressJet flavor system, you can infuse up to 6 flavors into the beverages. You can set them up at the get go or leave space for a limited time offering flavor. The infusion of the flavors into the milk, allows for consistent beverages every time…with no need to stir. The flavor quick disconnect tubes make cleaning easy and convenient.
Vanilla, Sugar Free Vanilla, Hazelnut, Chai, Caramel and Chocolate Sauce.